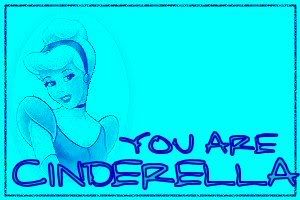 Dignified and hard working. With a gentle and soft-spoken manner you have something many people don't. Patience. Even through the moments of heartbreak you're still able to hold onto all of your hopes and dreams. Bide your time; your dream will come true.
Which Disney Princess Are You?
I didn't want to feel left out so I took the quiz and come to find out I am Cinderella, go figure!!!! I remember my sister and I used to crack jokes everytime we had to do work in the house that our middle names were Cinderella. That is way to funny!!!!